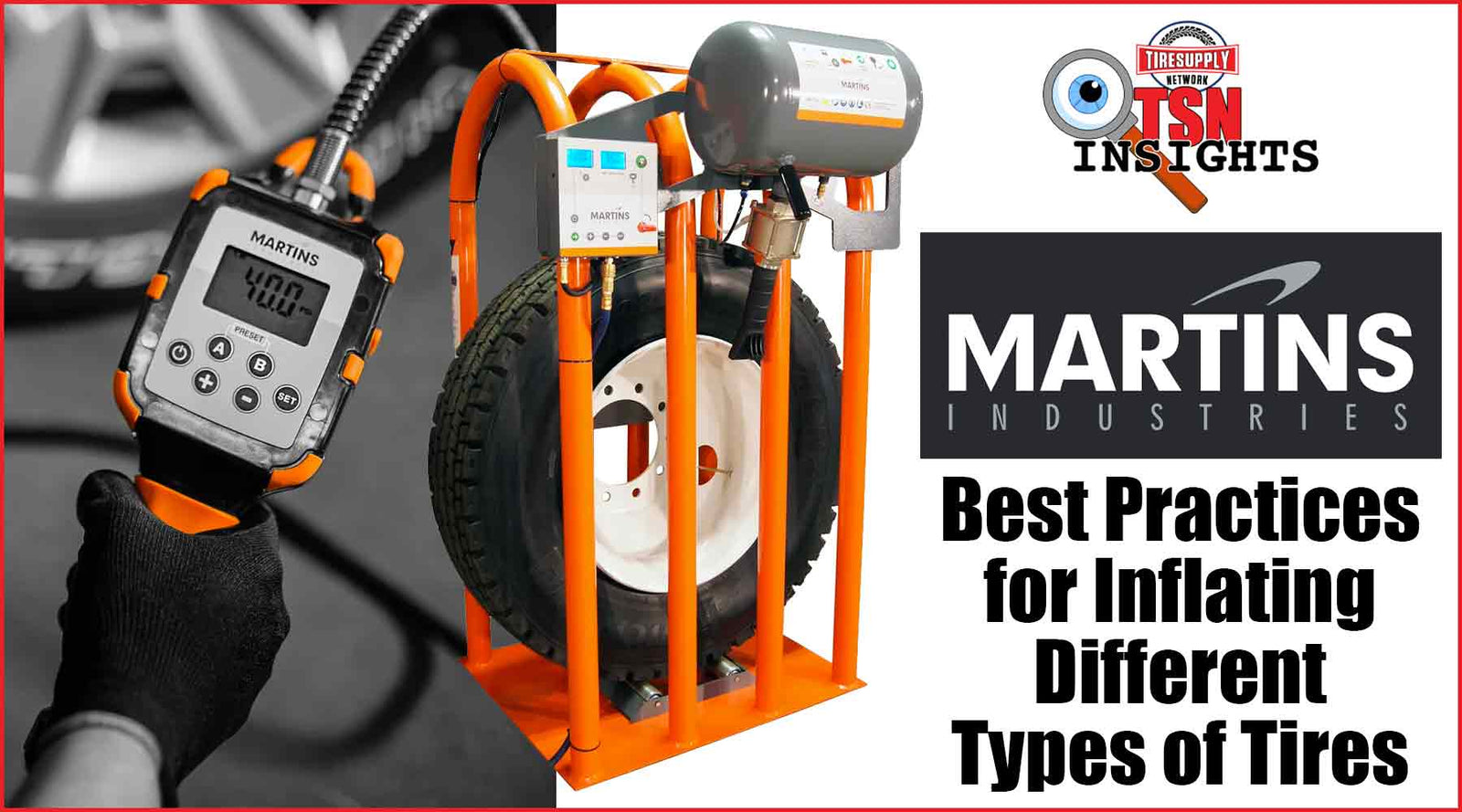 Martins Industries Tire Tools & Equipment
Martins Industries products are now available at Tire Supply Network! We offer Martins Industries' entire line of tools and equipment including tire inflation safety cages, tire inflators, bead seaters, hydraulic jacks, and more. Simply click the link below to see all the Martins Industries' products that we offer. However, if there is a particular item that you're looking for and you don't see it on our website, please don't hesitate to email or call us! We will be adding more Martins Industries' tools and equipment to our online store over the next few weeks and we can get any item that you're looking for.
CLICK HERE TO VIEW THE MARTINS INDUSTRIES COLLECTION
The following are recommendations from Martins Industries for safe tire inflation…
Best Practices for Inflating Different Types of Tires
Detecting whether a tire is properly inflated or not is impossible to the naked eye.
Did you know that approximately 70% of vehicles run with at least one improperly inflated tire? In addition to being a source of danger, an under-inflated tire can travel 9,320 miles less and increase fuel consumption by 4%.
Inflating the tires by following a few basic recommendations increases their performance, life and your safety. Here are some practices for getting the best results.
General Info:
Check the tire pressure regularly and at specific moments, such as when the tires are cold, after driving less than 1.25 miles or without driving for at least 3 hours
Over-inflated tires reduce the adhesion of the wheels to the road
Under-inflation increases rolling resistance and creates dangerous heat build-up
In winter, add air to the tires; the pressure decreases when the temperature drops
Always clean the nozzle of the pump hose and the tire valve
Replace the valve cap after each inflation
Variants:
1. Car Tires
According to the information sticker appearing on the car door pillar, on the driver's side, or according to the owner's manual, determine the correct pressure for the front, rear and spare tires
Use a quality tire inflator which is more precise than those of gasoline station air pumps
2. Tires for Large Vehicles
Place the tire in an appropriate inflation cage during the time of inflation
Use a clip-on inflation connection with gauge and in-line valve
Stay out of the possible trajectory of flying parts which could cause severe injuries
Inflate to 10 psi first and check the assembly before injecting the recommended pressure
3. Tires for Off-Road Vehicles:
Each tire, depending on its use, requires a different pressure; see manufacturer's advice
Respect the volume and thickness of each tire to inject the right amount of air
Check the tire pressure before and after each use
An adequate compressor should provide 150 psi
NOTE: To detect any anomalies, we insist on visually inspecting the wheel-rim assembly before inflating.
Source: Martins Industries