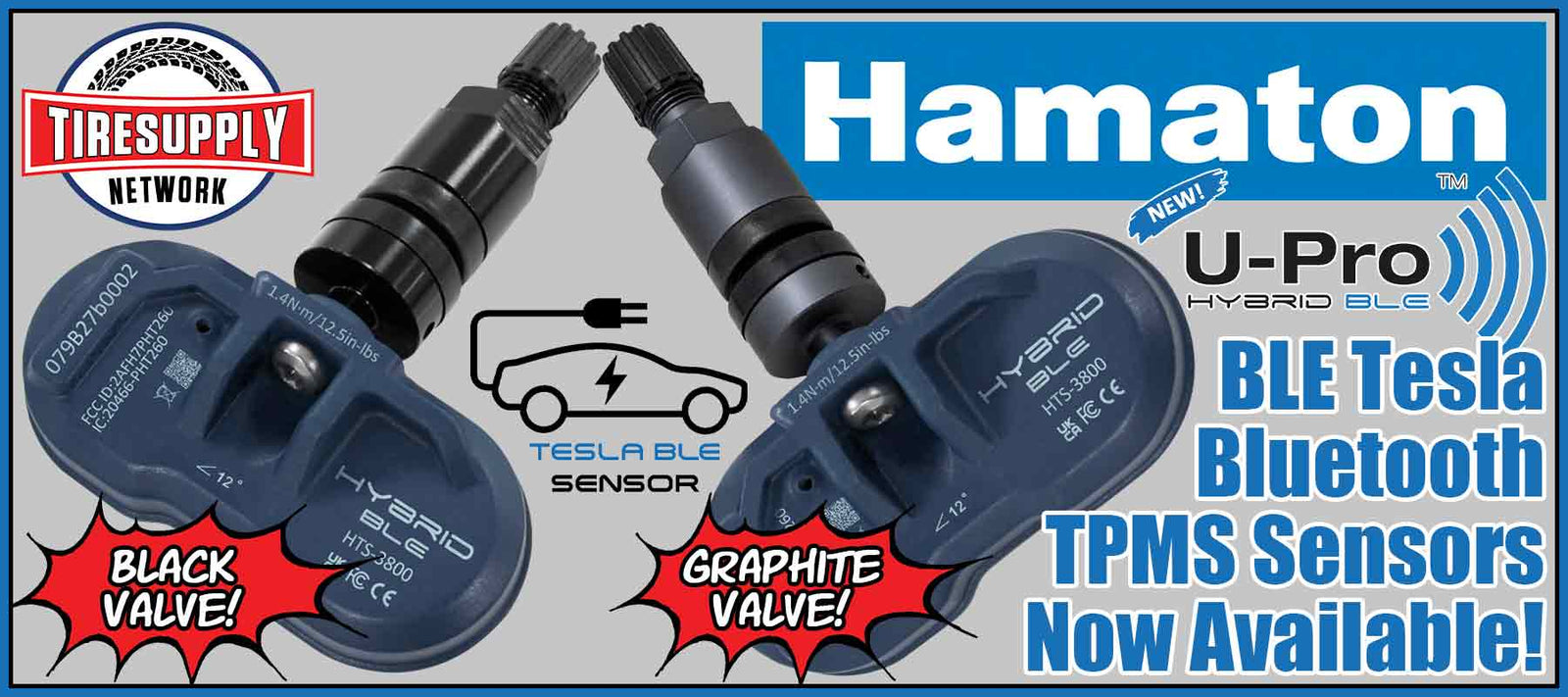 Tire Supply Network is excited to announce that we now stock Hamaton's BLE Tesla Bluetooth TPMS Sensors!
Newer build Teslas make use of Bluetooth Low Energy (BLE) technology for TPMS and Hamaton's new sensors are the first aftermarket sensors that make this technology available to the end user.
From Hamaton:
We are pleased to announce we are launching an aftermarket BLE (Bluetooth Low Energy) sensor exclusively for Tesla vehicles. The new solution is a direct replacement for the Sysgration BLE sensor - the only OE sensor to utilize the said technology. An alert is sent to the vehicle's computer system via BLE when air pressure drops, triggering the TPMS light. The sudden rise in popularity has seen demand for an aftermarket sensor soar as more and more garages encounter Tesla vehicles.
The NEW Hamaton U-Pro Hybrid BLE Tesla Bluetooth TPMS Sensors come preprogrammed, meaning technicians can install them on the Tesla models without programming!
Compatible With:
Tesla Model S: June 2021 - Present
Tesla Model 3: October 2020 - Present
Tesla Model X: October 2021 - Present
Tesla Model Y: October 2020 - Present
There are 2 different clamp-in valve options available with these new sensors:
Hamaton HTS-B10BN-US is equipped with a Black Clamp-In Valve
Hamaton HTS-B10BP-US is equipped with a Graphite Clamp-In Valve
CLICK HERE to purchase Hamaton HTS-B10BN-US U-Pro Hybrid BLE Tesla Bluetooth TPMS Sensor with Black Clamp-In Valve
CLICK HERE to purchase Hamaton HTS-B10BP-US U-Pro Hybrid BLE Tesla Bluetooth TPMS Sensor with Graphite Clamp-In Valve